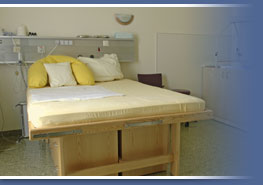 Designing specialized pillows and cushions to meet the unique needs of the patient, hospital and medical facility.
The doctor recommends a better night's sleep for a faster recovery!
Who deserves a restorative night of sleep more than hospital and medical patients? In fact, deeper, better quality sleep may lead to lifted spirits and a faster recovery! At Aurora, our sleep-inducing wellness pillows provide the highest level of comfort and relaxation to patients. While at the same time, we provide a higher value to hospital and medical industry distributors with a superior product at a very competitive price.
Aurora's pillows are designed to meet the special needs of patients:
Anti-microbial for superior freshness and & cleanliness
Mold-resistant & hypoallergenic for lasting quality
Unique resilience & durability for lasting support
Custom shapes & sizes for x-ray tables, maternity & any other equipment cushioning
Whether you need sleep products for a 50-bed nursing home or clinic, or a 1000+ bed hospital, you can trust Aurora to consistently provide personalized service, faster production times and pillows that are specially designed to accurately meet the unique needs of the patient, hospital and medical facility.
We invite you to learn more about Aurora Sleep Products and how we can provide wellness pillows that are ultra-comfortable, designed for superior cleanliness, and maintain lasting support-meeting all of your specialized challenges.